You're ready to reupholster your furniture and you've found a few workshops but who is the best? Our experts offer important considerations to make sure you partner with a workshop offering superior service and breathtaking results.
Design Assistance – Finding the perfect fabric can be challenging. Choose an upholsterer that offers complimentary design assistance from an interior designer. They'll help you find a color, pattern and texture that compliment your space perfectly.
Fabrics – Don't settle for a small collection of safe fabrics. Partner with a workshop that can offer gorgeous fabrics from the design industry's most fashion-forward mills.
Customization – The reupholstery process is the perfect opportunity to infuse your furniture with more style than ever with embellishments like nail heads, tufting and trim. Select an expert that is able to provide these exciting upgrades.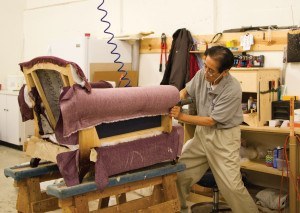 Additional Services – As you begin redesigning you're furniture, you may find you want to make small upgrades like adding coordinating custom pillows or embark on larger projects such as adding custom window treatments. Pick a workroom that can assist you with all of your custom fabric furnishings.
Pickup & Delivery – Expert tip, only partner with a firm that offers pickup and delivery. Who wants to hire a moving company as part of your decorating process?
Showroom – You should be able visit a showroom to see fabric options and also view examples of work in progress.
Since 1971, Rockville Interiors has been the area's leader in reupholstery. We offer complimentary assistance from expert interior designers to help guide you through our award-winning collection of home décor fabrics and furniture customization options. To get your project started, visit our gorgeous new showroom or schedule a complimentary in-home design consultation.
Questions? Email our Reupholstery Experts at hello@rockvilleinteriors.com or call 301-424-1900.