You have a piece of furniture you've always loved but it's time to update it with new fabric. You know you can slipcover or reupholster it but what exactly is the difference?
Reupholstery begins by stripping all the fabric and filling from your existing piece. Once the frame is revealed, we refurbish the springs, tighten the woodwork and refinished any exposed wood. Now that the frame is in perfect shape, we add your choice of filling from a variety of options like foam, down, etc. Finally, we apply your brand new designer fabric. The result is the same size and shape you've always loved enhanced with the coziest new filling and most gorgeous new fabric.
The slipcovering process does not involve adjusting the existing frame, filling or fabric on your furniture. Instead, we leave all those elements in place as we handcraft a new fabric cover for your piece. This new cover is perfectly tailored to hug tightly around your furniture and appear like the only of fabric on it.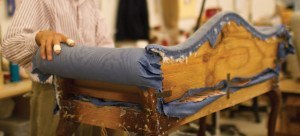 Still trying to determine whether reupholstering or slipcover is best for you? Check out our gorgeous new showroom in Rockville, MD. You can tour our on-site Furniture Workshop and watch our artisans handcrafting customs slipcovers and reupholstery. You'll gain an expert understanding of the process and options making you perfectly prepared to refresh that piece you've always loved.
Questions? Email our furniture experts at hello@rockvilleinteriors.com or call 301-424-1900.