Sewn within a pair of gorgeous custom draperies are tons of important details. They combine the perfect fabric with all the other critical details like hardware, lining, fullness, trims and more. If you're designing custom draperies now, make sure to consider the following:
Fabric – As you're searching for fabrics you love, make sure a drapery expert assesses if it's suitable for drapery, if it can be tailored into the style of drapery you prefer and if the color, pattern and texture work well within your room.
Style – Draperies can be tailored into so many different styles – Pinch Pleat, Grommet Top, Ripplefold, etc. Each style evokes a different aesthetic so select one that suits your space perfectly. Learn about the different styles at Which drapery style is right for me?
Fullness – Draperies can be created with lots of fabric to look plush, robust and full or with less fabric for a more tailored and streamlined appearance.
Hardware – You can choose between painted or stained woods, metals in nearly every finish, acrylic and more. A designer can help you find the perfect selection and your workroom and installation technician should confirm the hardware is suitable.
Embellishments – For a truly custom look, add embellishments on to your drapery. Try adding trim or banding at the leading edge of the drapery or to the bottom hem.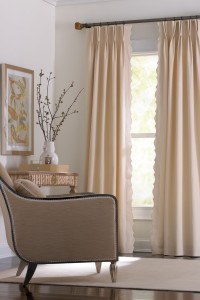 Lining – Although a small subset of fabrics such as sheers don't require lining, draperies that are lined and interlined hang best and last longest. Review the lining density options (standard, dimout, blackout, thermal, etc.) and color choices.
Operation – Should the drapers be stationary or operable? If they're operable, you can choose between cordloop and wand controls. An expert workshop should be able to assist with motorized solutions also so you can operate your drapes with a handheld remote, wall mounted keypad or App.
Break – Draperies can puddle on to the floor, hug the floor tightly or break a bit above the floor.
Hems – Most drapery workrooms offer different styles of hems. Some look more traditional while others are more contemporary. Ask to see images of the choices.
Attention to detail can transform draperies into breathtaking statement pieces within a room. At Rockville Interiors, our Interior Designers will help you navigate through all the options. Best of all, our designers will review all the selections with our in-house drapery workroom and installation technicians to ensure the design looks and functions perfectly.
Questions? Contact our Drapery Experts at hello@rockvilleinteriors.com or call 301-424-1900.