Which Style is Right For Me?
Great drapery workshops are able to handcraft nearly every type of curtain. Each type evokes a different aesthetic and finding that perfect one will help infuse your room with stunning style. So what type of drapery is right for you? Fortunately, our Drapery Experts are here to help explain all the choices.
Ripplefold – Drapery fabric is tailored into S-shaped folds which curve back and forth below the drapery rod. Pairs perfectly with contemporary spaces. A favorite amongst architects.
Grommet Top – Grommets are sewn just below the top of the drapery allowing a rod to pass through the fabric. A great fit for modern décor.
Expert tip – Your drapery hardware will be particularly visible with this style of curtain so select gorgeous rods, finials and brackets.
Pinch Pleat – A classic style featuring a careful pleat a few inches below the top of the drapery. This pleat adds elegance to the drapery and also helps the fabric hang nicely. This style of drapery compliments traditional and formal settings best.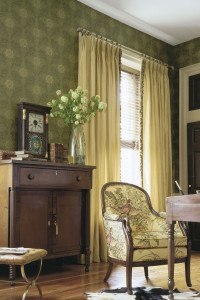 French Pleat – Also commonly referred to as Top Pleat or Inverted Pleat, a pinch pleat is placed at the top of the drapery fabric. French Pleat draperies are excellent for transitional spaces as they blend a classic traditional style with a chic modern twist. A favorite amongst interior designers.
Goblet Pleat – Fabric is shaped into a goblet at the top of the drapery. Infuses spaces with elegance and formality.
Rod Pocket – Drapery fabric is wrapped around the rod forming a pocket. Typically used in country themed décor and more casual settings.
In our very own locally operated Window Treatment Workshop, Rockville Interiors handcrafts all these styles of drapery and many others. Our Interior Designers will help you select the perfect style for your space and our Installation Technicians oversee measuring and installation so everything fits perfectly and gets installed to last a lifetime.
Questions? Contact our Drapery Experts at hello@rockvilleinteriors.com or call 301-424-1900.