As one of the hottest trends in window fashions, Plantation Shutters may require more of an investment than other window treatments. Below are essential tips from our plantation shutter experts to make sure you're investing in the right brand of window shutters.
Quality – High-quality Plantation Shutters feature heavy-duty components such as metal hinges and wood pins connecting louvers to the shutter frame and have a substantial weight. Flimsy shutters with plastic components may be a little less expensive, but they look cheap and won't last long.
Craftsmanship – Cheaply made shutters are constructed using glue and/or mortise and tendon joinery which cause shutters to loosen and separate over time. Investing in shutters with dovetail joinery, which is found in top-quality furniture and cabinetry, will ultimately save you money as the shutters will last for years to come.
Finish – An evenly distributed furniture grade finish is essential to create a lustrous appearance durable enough to withstand fading, cracking, peeling, etc.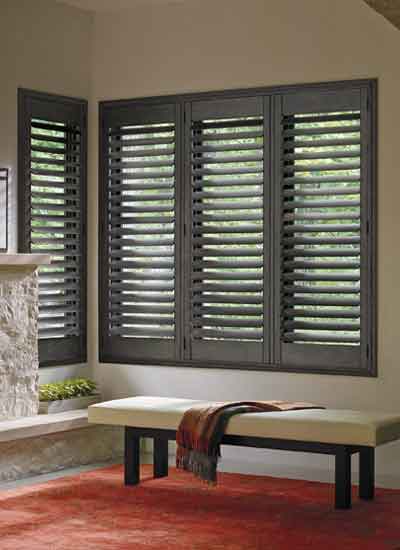 Functionality – Look at the statistics on energy-efficiency and UV protection. The right brand of shutters can provide amazing insulating qualities capable of significantly reducing energy expenditures and blocking UV rays which damage flooring, furniture, etc.
Warranty – Look for a comprehensive lifetime warranty. If a manufacturer truly believes in the beauty, quality and durability of their product, they'll back it with a lifetime warranty. Make sure the contractor will service potential warranty issues.
Experience – Only partner with the best designer and installer for your interior shutters. Your installer should be in business for many years, have a favorable reputation in the community and be able to provide references from projects with similar scopes. Your decorators and installers should be trained and certified by the manufacturer and have a minimum of 10 years of experience with these products.
Since 1971, Rockville Interiors has been the area's leading source for custom made Plantation Shutters. We partner with industry leading brands like Hunter Douglas and Norman Shutters to bring you gorgeous solutions made with exquisite craftsmanship and backed by industry leading warranties.
Questions? Email our shutter experts at hello@rockvilleinteriors.com or call 301-424-1900.