Plantation shutters are custom made thereby allowing you to choose from a variety of design options and features. Achieve a truly custom design by utilizing these features to make your shutters perfect.
Colors – Choose from 100 colors including 34 whites and 66 paints and stains. We can even custom color interior shutters for an infinite array of possibilities.
Louver Size – Our plantation shutters are available in 2 ½", 3 ½" and 4 ½" louvers. As your window gets longer you should use a larger louver size. Our designers recommend the 2 ½" louver for 0 – 45" tall windows, the 3 ½" louver for 35" – 90" tall windows and the 4 ½" louver for windows taller than 80".
Tilt Bar – The tilt bar is a piece of material attached to each louver so that when one louver is rotated all other louvers rotate in unison. These bars can either be on the front of a shutter panel or hidden on the rear of the shutter. The front tilt creates the traditional, class shutter look whereas the rear tilt is a more modern design approach.
Number of Panels – A 30" wide window could feature (1) 30" wide panel, (2) 15" wide panels, (3) 10" wide panels or (4) 7 ½"wide panels. A larger number of panels evokes more traditional and even cottage design tones whereas minimizing the number of panels creates a more minimalist and modern design.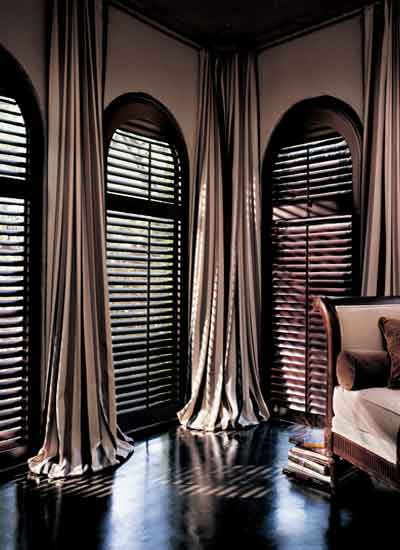 Shutter Styles – A standard shutter covers the entire glass section of the window. A Café style shutter runs from the bottom window frame to the middle of the window thereby leaving the top half of the window exposed. A double hung shutter has independently operable panels on the upper and lower portions o the window.
Frames – When shutters are mounted on top of an existing window frame, you can choose from various framing options to surround the shutter. The frames range from minimalist crisp and clean designs to highly-decorative options.
Hinge Color – Hinges can be painted to coordinate with the shutter color or made from metals with finishes like stainless steel, brass, antique brass, nickel and more.
Although there are quite a few design options, there is no need to feel overwhelmed. All of our interior designers are trained and certified shutter experts who can guide you through each selection to create the perfect custom plantation shutter. You can visit our gorgeous, new showroom in Rockville to see all these options on large scale displays, or we can send a designer to your home with samples and demos of all the options.
Questions? Email our shutter experts at hello@rockvilleinteriors.com or call 301-424-1900.