Sometimes finding the perfect fabric for your new custom home furnishings can feel like searching for a needle in a haystack. Each season, the design industry releases hundreds of thousands of new fabrics and settling on one always feels tough when you think an even better one may be out there. So how exactly do you find "The One"?
Start developing the vision for your project by doing a quick web search. If you're looking for photos of finished rooms, check out http://www.houzz.com. If you want to jump right into checking out fabrics, some of our favorite sites are http://www.kravet.com/, https://www.fabricut.com/ and https://www.duralee.com/.
Expert tip – never make a fabric selection exclusively based on online research. Every monitor displays color differently and you need see and feel a fabric in person to fully understand its color, pattern and texture.
After you've brainstormed, visit a fabric showroom. Aim for a retailer that represents multiple brands to make sure you have a comfortable breadth of options. Also, make sure there are designers present that can give you guidance on how fabrics can be used, pricing, colors, etc. Lastly, ask for free samples. If you love a fabric in a showroom, take a sample to make sure you love it even more under your own lighting and against the backdrop of the colors in your home.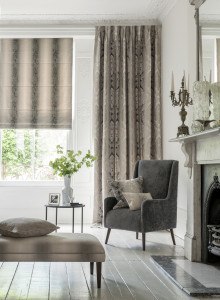 Ready to meet an interior designer in your home? You've researched online to understand the options, you've experienced the fabrics in a store in a store and test samples out in your home. An interior designer can now easily review your selection, offer exciting alternatives and recommend perfect pairs of additional fabrics and trims. If you can partner with a home custom furnishings fabricator that offers free assistance from an interior designer, selecting that perfect fabric is going to be easy, fast and fun.
In our gorgeous new Rockville showroom, we have the area's most carefully curated library of home décor fabrics from a variety of brands. While at the showroom, enjoy complimentary samples and assistance from expert interior designers. Prefer to meet in your home? Our designers will bring our award-winning collection of fabrics to you for a complimentary in-home design consultation.
Questions? Email our Fabric Experts at hello@rockvilleinteriors.com or call 301-424-1900.