You're ready to freshen up your bedding and you've found a few fabric workshops who say they're experts at fabricating custom bed ensembles, but just who is the best? Custom bedding can be a substantial investment and you need to make sure you partner with a workshop that will create pieces that look gorgeous, feel comfy and last a lifetime. Our Bedding Experts weigh in on important considerations to help you find the best fabric workshop:
Design Assistance – Designing custom bed ensembles can be tricky. You'll need to select all the different elements of the ensemble (comforter, duvet, skirt, shams, headboard, etc.) and then find perfect fabrics and trims for each piece. Insist on a fabric workshop that provides complimentary design assistance from an interior designer. They'll make the selection process easy, fast and fun.
Fabrics & Trims – Custom bedding only looks as good as the fabric used to make it. Partner with a fabric workshop with large gallery of the latest fabrics in a variety of styles and price points. You need to find fabrics you love and if you don't, go elsewhere.
Showroom – If you're the type of shopper that needs to see and feel all the options in person, select a fabric workshop that also has a showroom. Visit it to interact with demos of each element of the custom bedding to assess their quality, construction, look and feel.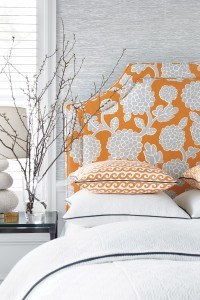 Related Accessories – If you design a custom bed ensemble, you may realize that you need to update other fabric based furnishings in your room such as window treatments, reupholstery, slipcovers, etc.Make sure you fabric workshop can assist with all your custom fabric creations.
Workshop – Many fabric workshops subcontract their custom bedding solutions to overseas workrooms that use inferior quality inputs and cheap fabrication techniques. Make sure your workroom handcrafts their custom bedding locally and ask for a workroom tour to learn more about the process and options.
Since 1971, Rockville Interiors has been the area's leading designer, fabricator and installer of custom bed ensembles. We offer complimentary design assistance from interior designers who can meet you in our showroom or in your home to guide you through the selection process. They'll help you find the perfect fabrics and trims from our award-winning gallery of the latest home décor fabrics and even help your tour our on-site workrooms to view custom bed coverings, pillows, skirts and upholstered headboards being crafted by hand.
Questions? Contact our Bedding Experts at hello@rockvilleinteriors.com or call 301-424-1900.