Selecting the perfect fabrics for a custom bed ensemble can feel like a daunting task. There are so many fabrics out there and so many elements to a custom bed ensemble, so just how do you get started finding fabulous fabrics? Fortunately, our Bedding Experts are here to help get you started.
Always start by considering what elements of custom bedding you want. For the bed covering, do you want a Bed Spread, Comforter, Coverlet or Duvet Cover? Are you going to add decorative pillow shams, pillow cases or throw pillows? Will your bed feature other fabric elements such as an upholstered headboard or bedskirt? Once you understand which elements your bed ensemble will feature, you'll be ready to begin selecting fabrics.
Identify the largest fabric-based area of the bed and pick that fabric first. This area is typically the bed covering or the upholstered headboard. Since the largest area is going to be a major focal point, finding the perfect fabric for it first is a great starting place that will make other fabric selections for coordinating pieces quickly fall into place.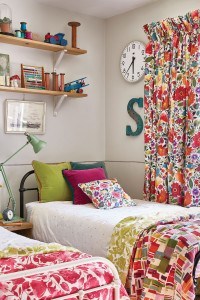 Once you've selected a fabric for the largest area, find fabrics for the small areas like throw pillows or a bed skirt. These are the pops of color, texture, pattern and style that bring your custom bed ensemble to life. After these pops of style are selected, choosing the remaining fabrics will be a breeze.
Rockville Interiors has the finest gallery of fashion-forward home décor fabrics. Visit our showroom to view the entire collection or have one of our interior designers bring the options to your home for a complimentary in-home design consultation. Our interior designers will help guide you through all the fabric and trim options to create a truly gorgeous custom bed ensemble.
Questions? Contact our Bedding Experts at hello@rockvilleinteriors.com or call 301-424-1900.